Privacy Notice
This privacy notice sets out how Firstplan uses and protects any Personal Data that you provide us.
Who we collect data from:
Firstplan collects information from:
Customers and prospective customers
Suppliers and consultants
Potential employees
Customers of Firstplan
We may collect, store and process Personal Data of our customers, suppliers and consultants. In doing so Firstplan will complying with all laws and regulations that apply to the collection, use and control of such Personal Data.
Customers of Firstplan's Customers
We may collect store and process Personal Data of customers of Firstplan's customers, solely on our customers behalf and at their direction.
The information we collect
Via our website.
We only collect Personal Data that has been sent to us directly by you via a contact form (such as name, telephone number, site address (which could also be your personal address).
Outside of our website
Personal information may also be collected directly by us when you enter into a contract with us or contact us to make an enquiry via email, telephone or post.
How we use the information we collect.
Where relevant, the use of your Personal Data will be justified by the following condition:
Our use of your Personal Data is in our legitimate interest as a commercial organisation, provided it is conducted at all times in a way that is proportionate, and that respects your privacy rights;
Our use of your Personal Data is necessary to perform a contract or take steps to enter into a contract with you
You have provided your consent to us for using the Personal Data in that way for example where you provide us with consent to send you newsletters.
Your Personal Data will not be used for any other purpose than provided by this Notice. We will use the information you supply:
To answer a specific enquiry or respond to your complaints;
For general business purposes, such as the administration of your customer account and the fulfilment of our service to you.
To ensure we comply with Money Laundering Regulations.
Direct Marketing
We will not use your Personal Data for direct marketing purposes unless you opt in to receive such information.
How we use information collected through cookies and other tracking technologies
We use cookies across our website to improve performance and enhance user experience. Click here to review our full Cookie Policy.
Who we disclose your information to
We work with third parties to help manage our business and deliver services to you. We disclose and share your Personal Data:
Among Firstplan staff
To third party service providers that perform services for us on our behalf to assist with the fulfilment of our service to you [specialist consultants, barristers, LPA]. Such service providers are required to handle your Personal Data in accordance with applicable laws and principles related to privacy and data protection;
Any access to such information will be limited to the purpose for which such information is provided to us or our service providers.
International transfers
We do not use third parties or services from outside of the UK.
How we protect and store your information
We take the security of the information we collect seriously. We maintain technical and organisational security measures, policies and procedures intended to reduce the risk of unauthorised disclosure or access to such information.
Personal Data is stored on our servers in the UK and with our UK based archive company.
Retention of your Personal Data
We will retain your Personal Data for as long as is reasonably necessary for the purposes for which it was collected. In some circumstances we may retain your Personal Data for longer periods of time, for instance where we are required to do so in accordance with legal, regulatory, tax or accounting requirements.
Your rights and how to opt out or request changes
Subject to certain exemptions, you have the right:
To access your Personal Data
To rectify /erase Personal information
To restrict the processing of your Personal Data
To transfer your Personal Data
To object to the processing of Personal Data
Right to object to how we use your Personal Data for direct marketing purposes
Right to lodge a complaint with your local supervisory authority
Contact us
If you have any questions, concerns or complaints regarding our compliance with this Notice and the data protection laws or if you wish to exercise your rights of access, choice, rectification or deletion, please contact us at info@firstplan.co.uk
Dataflow of Client Information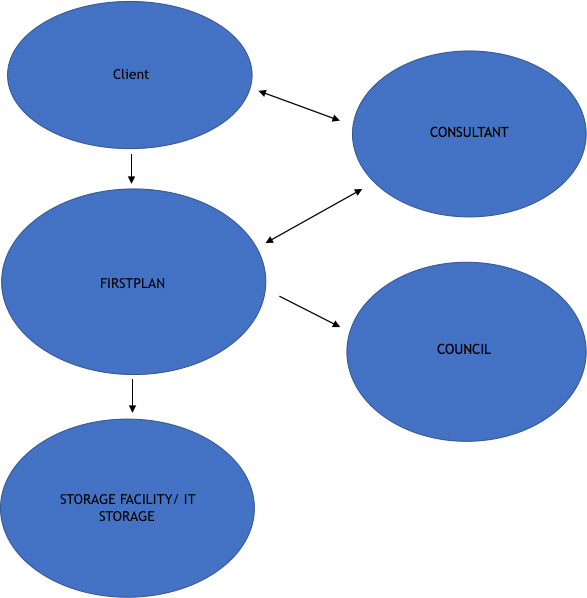 Data Retention Periods
| Data Type | Storage Type | Retention Period | Process for Data Removal |
| --- | --- | --- | --- |
| Project related Personal Data | Physical/"E" data | For the life of the project + 10 years after archive data | Personal Data redacted from physical file upon sending to archive / e- file to be redacted after 10 years of archive date. |